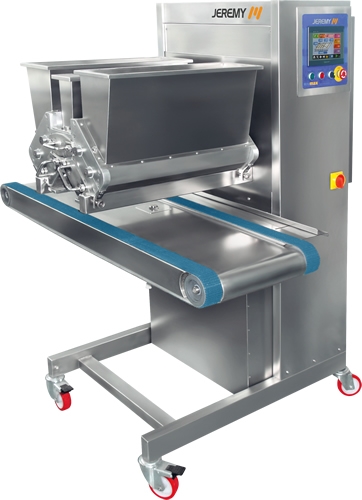 Click above for more images and larger versions
Manufacturer: Jeremy Sp. z o.o.
Model: MiniMax
Category: Bakery Equipment by JEREMY
Year: 2017
Status: For Sale
Machine Notes:
JEREMY Minimax - NEW Machine direct from the MANUFACTURER

Automatic Dropping Machine for Biscuits

This machine is designed for the production of cakes of -

Light Dough.eg. fruit cake, cream puffs

Thin Dough eg. sponge cake

When fitted with additional gear pump, the machine is used for processing of Thick Dough, Dough with additives eg.coconut.

This machine is manufactured in different versions that can process one kind of dough, two kinds of dough simultaneously, or two kinds of dough and filling.

- stable frame-type machine body
- wide range of standard and special tools, including the holder for thin dough, and diaphragm-type holder for product cutting with simultaneous closing
- simple tools change
- easy cleaning of all parts in contact with dough.
- extended product forming possibilities and functions using microprocessor controller with large capacity of memory
- optional additional unit for decorating of cakes by lifting and lowering the dosing and forming device during conveyor stop.

Various Models available.

Pricing: Models Range from 14,000Euros upto 53,000Euros dependant upon size and numbers of pumps fitted.

Full Price list available upon request.

Please add your email address to the box below for further details.