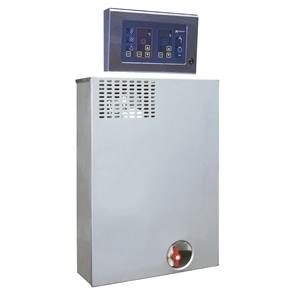 Click above for more images and larger versions
Manufacturer: Jeremy Sp. z o.o.
Model: KLIMA AG-9
Category: Bakery Equipment by JEREMY
Year: 2017
Status: For Sale
Machine Notes:
JEREMY KLIMA AG-9 - Brand New Machine direct from Manufacturer

We are the UK Agents for Jeremy Sp. zoo who are based in Poland.

Climator Unit for Proving Room

• device is made from stainless steel
• the unit is equipped with electrode-type steam generator (S) and air heaters(T) (to 20cbm)
• operating and parameter settings carried out via control panel
• after power switch on, set up the appropriate values of humidity and temperature, unit automatically draws water and switches on heaters in order to maintain the selected parameters with high accuracy
• construction allows for direct access to drain valve
• electrode cleaning and scale removal is to be performed once every 3-6 months

Please contact us for further details.