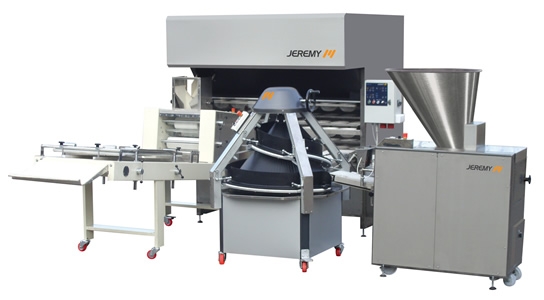 Image 2
Image 3
Image 4
Image 5
Image 6
Click above for more images and larger versions
Manufacturer: Jeremy Sp. z o.o.
Model: Bread Production Line
Category: Bakery Equipment by JEREMY
Year: 2015
Status: For Sale
Machine Notes:
JEREMY Automatic Line for Bread Production.

1. Dough dividers MAGNAT

divides the dough with big precision in wide weight range
has got stepless regulation of efficiency (quantity of portions/ hour)
is solid, simple, silent machine with unique mechanisms construction
dividing equipment is prepared from special durable materials
construction permits for easy and fast cleaning
fixed wheels permit for easy machine relocation

2a. Conical dough rounder ALFA

Long rounder way 3600 mm (ZS 360) or 6000 mm (ZS 600)
Regulated weight range (moving troughs) of the rations of the dough (from 60 till 1500g)
Hot air injection
Tefloned troughs and conical
It is possible to install the washers, which make possible to round the dough prepared in 50% from rye flour.
It is possible to regulate the conical rotation
Strong industrial construction

2b. Belt rounder BETA

It is possible to round the dough rations of weight from 250 grams till 1600 grams
Two options of belt length 1500 and 2000 mm
Regulated rounding speed
Ensures correctness of rounding the dough prepared in 90% from rye flour
Unique construction - the engines were placed in going barrels

3. Preliminary proving rooms RELAX


4. Dough longmoulder DELTA

Available with 1 or 2 pressure plates and width of the belt 500 mm or 600 mm.
Modern and quiet drive of the rolling rollers with help of the rubber belts
Independent drive of the belt conveyor flight and rolling rollers
Easy regulation of the pressure plates lifting
It is possible to regulate the speed of conveyor
Lateral regulation the length of the dough

Please contact us for further details.