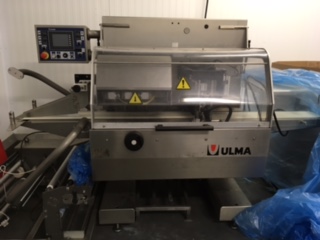 Image 2
Image 3
Image 4
Image 5
Image 6
Image 7
Click above for more images and larger versions
Manufacturer: Ulma
Model: BALTIC Inverted
Category: Flow Wrappers
Year: 2011
Status: For Sale
Machine Notes:
ULMA Baltic Inverted Flow wrapper for sale.

Year 2011

Ideal entry level flow wrapper for MAP (Modified Atmosphere Packaging) Packaging of fresh food products.

Machine Features:
2Metre long infeed conveyor
'No Product - No Bag' and 'Misplaced Product Safety' functions as standard.
Gas Flushing System included
Monochrome Touchscreen control panel with User/Machine interface
Set up to run on either OPP or Laminate
Includes Photocell for Print registration to run on pre-printed film.
Adjustable Folding Box.

Min/Max Product Dimensions:
Length: 120mm - No max
Width: 10mm - 250mm
Height: 5MM - 120mm

Film Width Capacity: 700mm
Max Roll Diameter: 300mm

Output Speed: 30-40 packs per min / 12M/Min - depending on product.

Electrical Requirements: 3 Phase - 400V/230V - 50Hz.

All Max or all minimum dimensions may not be attainable at the same time.
Speed dependant on product type, product dimensions and film type.

Machine Footprint: 4700mm L x 1150mm W x 1700mm H
Machine Weight: 900Kg

In good working condition.

Photos to follow in two weeks.

Please contact us for further details.