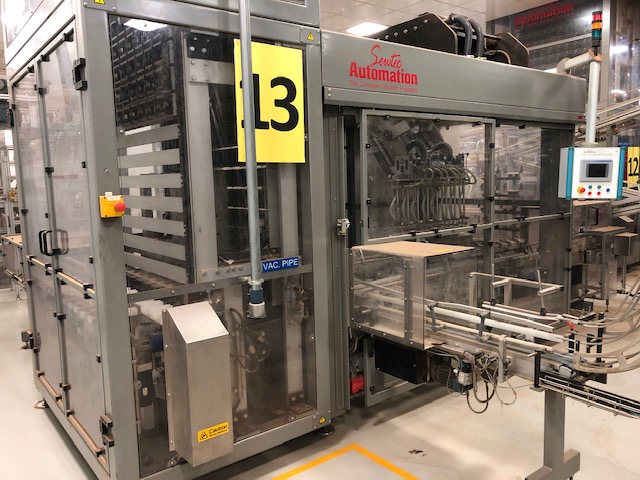 Image 2
Image 3
Image 4
Image 5
Image 6
Image 7
Image 8
Image 9
Image 10
Click above for more images and larger versions
Manufacturer: Sewtec Automation
Category: Tea Equipment
Year: 2008
Status: For Sale
Machine Notes:

3 x Sewtec Automation Case Packers with Robotic Pick & Place For Sale

Manufactured in 2008

Currently now out of production and in storage in the UK.

The machines were previously used to handle a flowrapped twin stack of tea bags having approx. overall pack dimensions (including end seals) of .

Pack Length: 170mm
Pack Width: 70mm
Pack Height: 65mm

Suitable settings for packing cartons of 40's, 80's, 160's and 240's.

The flowrapped packs are loaded into cartons with robotic pick & place with dimensions and throughputs as follows:

1.) 40's Carton - 145mm x 75mm x 70mm @ up to 60 cartons per minute
2.) 80's Carton - 145mm x 75mm x 130mm @ up to 60 cartons per minute
3.) 160's Carton - 145mm x 145mm x 130mm @ up to 30 cartons per minute
4.) 240's Carton - 145mm x 145mm x 190mm @ up to 20 cartons per minute

The machines were inline with several flow wrappers feeding these case packers.

The Case Packers come with Robotic Pick and Place where the flow wrapped packs of tea bags are fed from three lane diverging into two lanes and picked and placed into open top end cartons which are then closed.

It also comes with a Buffer storage and feed system in case one machine downstream has a problem and is offline for a period of time, where the cartons are stacked into layers allowing the offline machine downstream to be fixed.
Once the machine is brought back online the stored packs are fed back into the line.

All three machines came out of production earlier this year and are in good working order.

All machines are available immediately for sale.

Location: UK

All manuals, maintenance manuals, drawings available.

Excellent Value machinery.

Please contact us for further details.