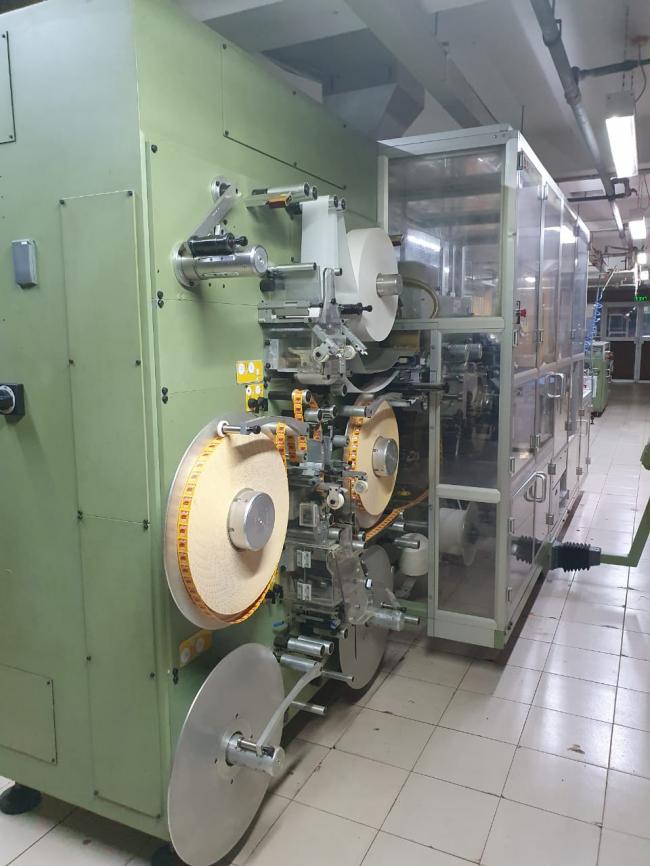 Image 2
Image 3
Image 4
Image 5
Image 6
Image 7
Image 8
Image 9
Image 10
Click above for more images and larger versions
Manufacturer: IMA
Model: C2002
Category: Tea Equipment
Year: 2012
Status: For Sale
Machine Notes:

IMA C2002 Tea Bagging machine for sale

Year of manufacture 2012

Used for only 28,349 Hrs in production.

Machine Speed: 600TB/Min

Produces Double Chamber Heat Seal bag.
Thread attached to tea bag and tag with heat seal mylar tape

Tea Bag capacity: Up to 3gm per bag
Tea Bag size (mm): 40 x 58
Filter Paper Size (mm): 87 wide
Tag Size (mm): 28 x 32
Envelope Size (mm): 66 x 77
Mylar Tape Size (mm): 10 wide

Option to have Automatic carton erector (25 and 100 count tea bags cartons for both naked bags and envelope)

Option to have auto weighing and rejection.

Machine Power:
Total installed power: 23kW
Max Power consumption: 18.8kW

Compressed Air requirement:
Duty Prressure: 6Bar, Consumption: Max. 750NI/min

Machine Net Weight: 6,000Kg

It is in good running condition and available immediately.

Location: Colombo, Sri Lanka

Please contact us for further details.