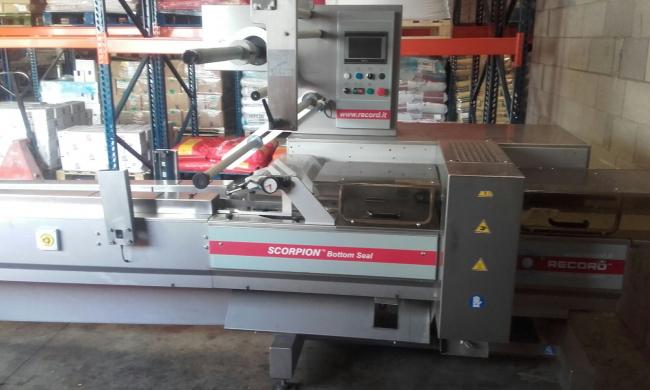 Image 2
Image 3
Image 4
Click above for more images and larger versions
Manufacturer: Record
Model: Scorpion BS RS Medium
Category: Flow Wrappers
Year: 2013
Status: For Sale
Machine Notes:
Record Scorpion Flow wrapper for sale

Model RS BS Medium

Year 2013

This is a Bottom Seal flow wrapper manufactured in 2013.

It is in very good operational condition.

Complete with Flighted infeed conveyor and guide rails for punnets or regular medium sized products.

Output Speed: 20-120PPM

Product Dimensions suitable for packing on this machine:

Product Length: 70 to 500mm
Product width: 40 to 320mm
Product Height: 10 to 150mm (Centrax 180)
Product Height: 10 to 120mm (Centrax 150)

Max Film Width: 730mm

Cut off length min/max: 100 & 600mm

Overall machine dimensions (Footprint): 4050mm Long x 1450mm wide x 1920 +/- 20mm High.

Please contact us for further details.