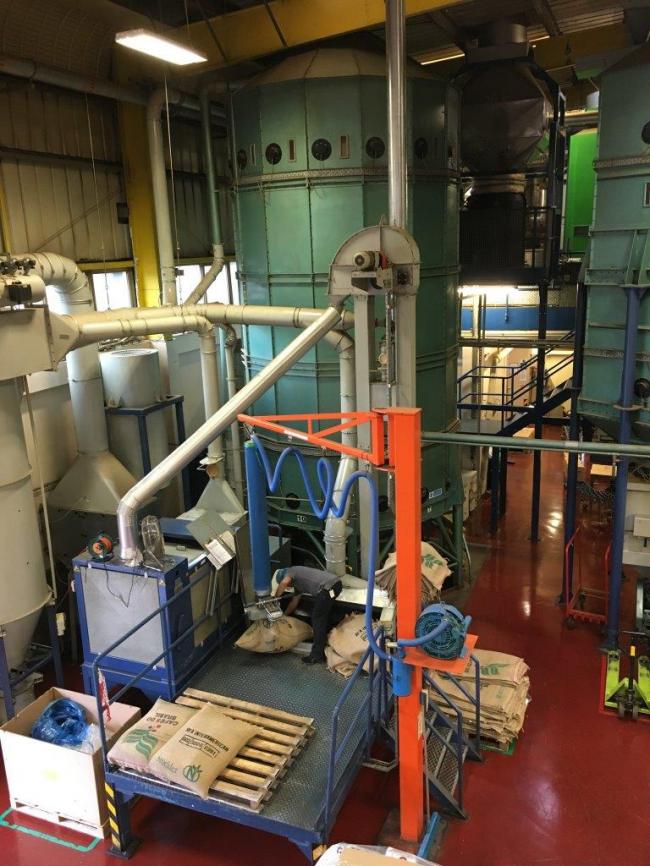 Image 2
Image 3
Image 4
Image 5
Image 6
Image 7
Image 8
Image 9
Image 10
Click above for more images and larger versions
Manufacturer: Probat
Model: R1500/1R
Category: Coffee Roasters above 60Kg
Year: 2002
Status: For Sale
Machine Notes:
Complete Probat Coffee Roasting Plant
SALE AGREED

Year of Manufacture ranges from 1993-2014

Complete factory comprising the following:

Green Bean Entry and Storage

Probat - Model KSD750/1200AM - Year 2006
Green bean Sacks lifted via suction device for loading into infeed Hopper. Beans then transported through destoner and metal detection before being vacuum transferred into Green bean Silos for storage.
1 x 6 Compartment Probat Green bean silos - Capacity 3 Tonnes per silo
1 x 15 Compartment Probat Green bean silos - Capacity 2 Tonnes per silo

Roasters:

Probat R1500/1R - 240Kg Capacity Roaster - Year 2002
With Cyclones, Destoner & Afterburner

Petroncini 240Kg Roaster - Year 1993
Complete with Cyclone, Destoner and Afterburner manufactured in 2014.

Both roasters feed their chaff into a separate Petroncini Chaff Compactor that compacts the chaff into discs which are disposed off in discharge/waste/recycling bin.

All the equipment has individual PLC controls sited at each machine location, with duplicated PLC Controls fed back into a central office location with Roast Profiling software and controls centrally for additional oversight and control, including the controls for the chaff compactor.

After the roasting process, the roasted beans for each roaster are fed either into Grinders (NOT FOR SALE) and automatically transferred into relevantly positioned ground coffee silos on mezzanine floors above that then automatically feed into one of the packing machines below.

The same applies to whole beans which are transferred after roasting into whole bean silos, positioned above two packing lines for packing.

Roasted Bean Silos:
2 x Group of 4 Probat Silos for storage of roasted beans - Year 2006

The Geen bean set of 6 Silos has also been used previously for storage of roasted beans.

Packing Lines:
1 x Goglio GL18 Bagger with twin lane Goglio Linear weigher with One way Valve Applicator, with two forming sets for packing 225gm and 1Kilo block bottom bags of whole bean coffee with Herma Labeller and Markem X40 Thermal Transfer printer and Outfeed conveyor included with Gantry. (Dismantled and in storage)

1 x Rovema VPI400 Bagger with Multipond 14 head weigher, with one way valve applicator with tooling for doing 1Kilo and 5Kilo block bottom bags of whole bean coffee, with Thermal Transfer printer. (Dismantled and in storage).

Location: UK
SALE AGREED

Please contact us for further details.