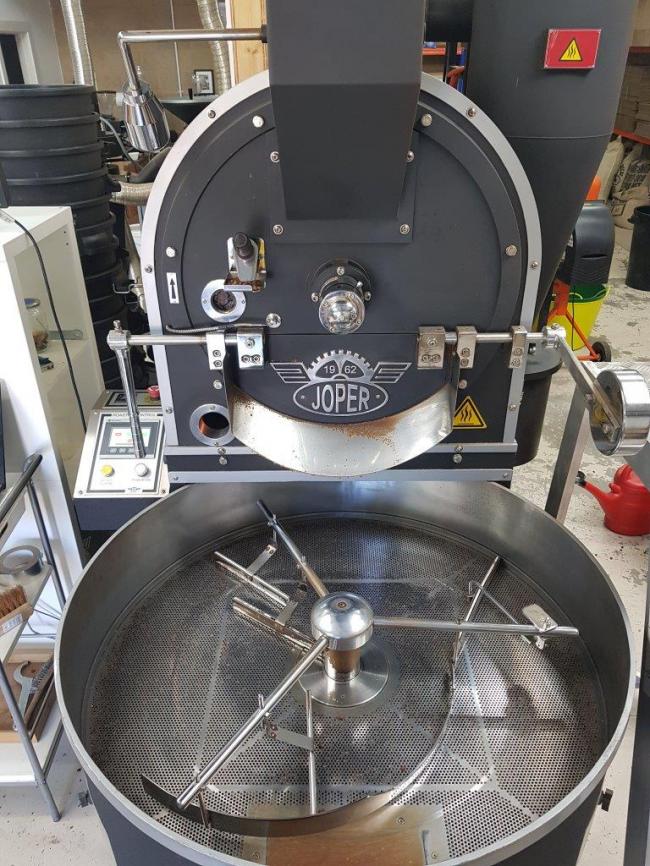 Image 2
Image 3
Image 4
Image 5
Image 6
Image 7
Image 8
Image 9
Image 10
Click above for more images and larger versions
Manufacturer: Joper
Model: BPR-25
Category: Coffee Roasters
Year: 2015
Status: For Sale
Machine Notes:
Joper BPR-25 - 25Kg per batch Coffee Roasting Line for sale

Year of Manufacture: 2015

We are pleased to be offering this very well built and versatile 25Kg Joper roaster.

It is currently in production in the UK where it has been running very successfully for the last 3 years since it was purchased new by the current owners.

The owners are upgrading to a larger capacity roaster, so this will be available first week in November 2018 once the new roaster has been installed.
It comes complete with Cyclone and Afterburner.
The afterburner is a 2 stage design built by Besca and connects to the Roast exhaust only, not the cooling tray airflow.

Specifications:
Roast capacity: 12.5 - 25Kg per batch with a roast time of approx.15-20mins per batch depending on type of bean.

Output per Hour: Approx 100Kg.

Gas: LPG - Propane (Can be converted to Natural gas).
Burner: 55kW - 187667 BTU/hr

Electrical Requirements: 3Phase 415V, 3-N, 50Hz, 20Amps

Fitted with 4 Direct Drive Motors for quiet running and low maintenance for the Drum drive, Cooling Tray arms, exhaust fan and cooling fan.
Cast Iron construction to drum, front faceplate and rear plate.
It is linked to Cropster with cropster USB Hub.
Price: £34,500GBP Ex. works UK

Please contact us for further details.