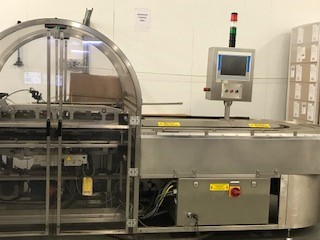 Image 2
Image 3
Image 4
Image 5
Image 6
Image 7
Image 8
Image 9
Image 10
Click above for more images and larger versions
Manufacturer: Jacob White
Model: TLX-3
Category: Cartoning
Year: 2013
Status: For Sale
Machine Notes:
Jacob White TLX-3 Semi-Automatic Cartoner for sale
Year 2013
Fitted with additional flap closers.
It was previously being used to pack coffee capsules into cartons.
Standard Features:
a) 15" (381mm) Pitch Carton Conveyor chain
b) Rotary carton feeder
c) Carton magazine low level warning
d) 3 or 4 chain carton conveyor
e) Nordson Problue series hot melt glue applicator
f) Toothed belt drives
Machine Specification:
Machine Setting Data
Vacuum Pressure: 20-25 Hg (0.65 - 0.85 bar)
Compressed Air Supply: 80lb/inch sq (6 bar) Minimum
Air limit switch setting: 40lb/inch sq (2.75 bar)
Electrical Power Supply: 400-230volts 3 Phase 50/60Hz
Total Electrical Load: 10kVA (Standard)

Technical Data:

Carton Size Parameters: DIM A (length) = 138 - 310mm (4 chains)
DIM A (length) = 108 - 310mm (3 chains)
DIM B (width) = 44 - 225mm (15" pitch)
DIM B (width) = 44 - 200mm (10" pitch)
DIM B (width) = 44 - 150mm ( 7.5" pitch)
DIM C ( height) = 20 - 100mm
Bottom Flap = 75mm Maximum Length

Max. Blank Size:

Across i.e DIM A + ( 2 x longest flap) = 460mm
Width i.e DIM B + DIM C - 250mm

Machine Dimensions (mm):

Overall Length - 3992
Overall Width - 1080
Overall Height - 3992 =/- 25
Discharge Height - Depends on carton size
Machine Weight Unpacked - 1600Kg

It is in excellent running condition and available immediately.

This has been running in conjunction with an OPEM CR-2P Coffee
Capsule packing line under Machine ID:1680.

Location: London, UK

Great value cartoner for its age and condition.

Please contact us to discuss in more detail.