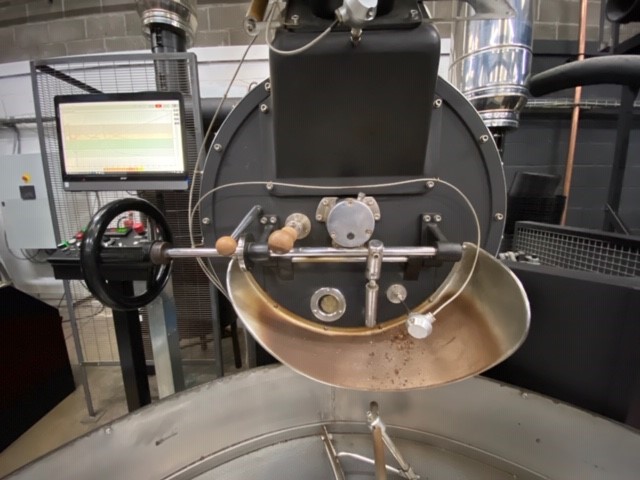 Image 2
Image 3
Image 4
Image 5
Image 6
Image 7
Image 8
Image 9
Image 10
Click above for more images and larger versions
Manufacturer: Petroncini
Model: 30Kg
Category: Coffee Roasters
Status: For Sale
Machine Notes:
Petroncini 30Kg Coffee Roasting Line

Completely refurbished in 2018.
Originally built circa 1970's.

Complete with Green Bean Loader, Cyclone and Destoner.
Available in March/April 2021.

Refurbishment comprised the following:

Full nut and bolt rebuild. ( every bolt replaced with new fittings )
Fully cleaned internally.
Full bare metal strip and repaint - ( 700c high temp paint - Audi gunmetal grey highlights )
New process burner 100kw. 1-100 digital turn down.
New motors x 4 (universal motors ltd).
Drum and roaster fan motors on frequency drives.
Custom made control panel.
Custom wooden turned handles.
Bean loader.
Chaff box.
All original duct work.
Whitmee destoner - fully restored in 2015 - never used.
Acoustic baffles.
Stainless steel drive chains
New V belts.
Safety cage.
Furnace relined.
New bearings through out.
E stops.
Cables trays
Electrical wall mounted box.
All the wiring. ( replaced every wire )
All the drives and breakers (replaced every component)

It will not come with the Data loggers or PC.

It was fitted with a very expensive industrial burner with a 3 x 360 degree potentiometer to provide 1-100 turn down ratio and therefore a very accurate control over the burner settings, ideal for creating very accurate roast profiles.

The drum and roaster fans are fitted with frequency drives, to adjust fan/airflow speeds.

It has been used for approx. 15-20 hours per week since the refurbishment was completed.

Owners will dismantle and palletise the roaster included in the price.

This is an excellent roaster, refurbished to a very high standard, producing excellent coffee results.

It is only been sold to make room for two smaller roasters.

Location: UK

Please contact us for further information and price details.