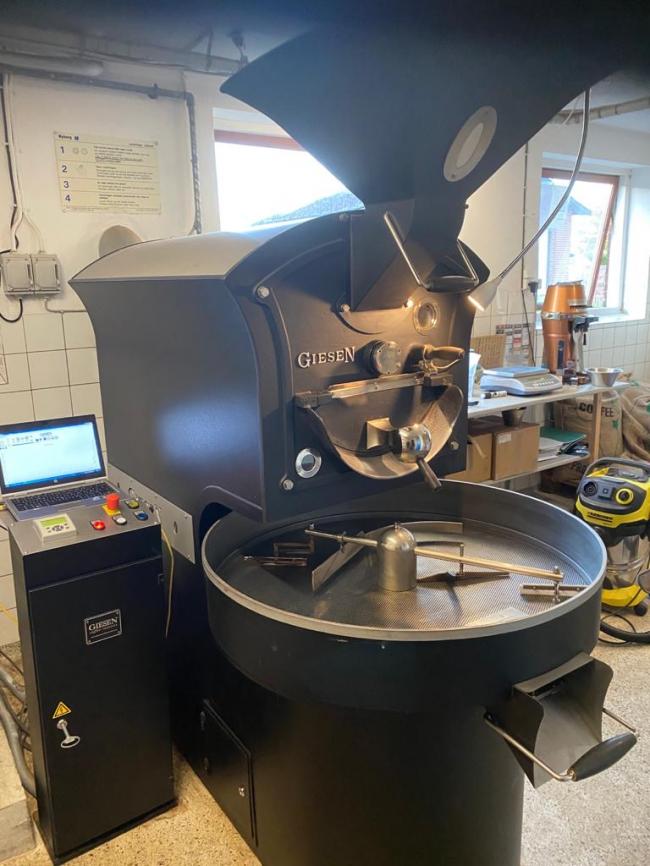 Image 2
Image 3
Image 4
Image 5
Image 6
Image 7
Image 8
Click above for more images and larger versions
Manufacturer: Giesen
Model: W15A
Category: Coffee Roasters
Year: 2011
Status: For Sale
Machine Notes:

Giesen W15A Coffee Roaster
No Longer for sale currently.

Year 2011

Complete with Control Tower and Laptop (2 years old).

It has a total of 1492 running hours, so has had very little use since it was first manufactured.
It has been roasted on once per week for the last 6 years.

Prior to this it had only been run for 58Hours as it was used as a back up roaster with the original owners.

It is currently set-up to run on Propane gas, but comes with new burner screen for natural gas, so can be easily converted to run on Natural Gas if preferred. It will just require new nozzles and software update.

It comes with Giesen Profile Program software where the burner can be adjusted from 10-100% and the drum speed is adjustable also.

Roast profiles can be saved and repeated as required.

It has two Motors & Fans to enable roasting and cooling at the same time.

It has an average output of 50Kg per hour of roasted coffee.

It will automatically switch off once the temperature reduces to 49 degrees C, so you can potentially leave the roaster to switch off by itself, if required.

It has been serviced every 400hrs by Giesen.

Electrical Requirements: Single Phase - 50Hz - 230V

It is currently disconnected and now in storage.
Available immediately for sale.
Photos show it when last installed and running 1 Year ago.

Location: England
No Longer for sale currently. May come available again in a few months time.