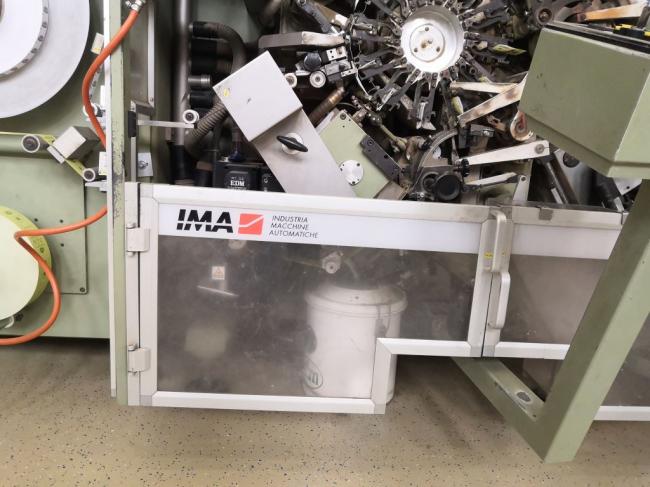 Image 2
Image 3
Image 4
Image 5
Image 6
Image 7
Click above for more images and larger versions
Manufacturer: IMA
Model: C24
Category: Tea Equipment
Year: 2001
Status: For Sale
Machine Notes:

IMA C24 Tea Bagging machine for sale
Year 2001
Produces a double chamber tea bag with string & tag without staple and places the tea bag into an outer envelope.It then collates and packs the enveloped tea bags into cardboard boxes in specified groups.
Output: 300 TBM
Tea Bag Size: 45mm x 60mm
The width of the sachet liner is 103 mm.
The length of the packet liner is 149 mm.
Filter paper width 103 mm (+0; -0.50 mm).
Inside the filter paper drum, bushing diameter Ǿ 75 mm.
Filter paper drum, outer diameter max. 600 mm.
Filter paper weight 12 g / m2.
Thread : length from filter bag to label 140 mm, offers a cutting length of 210 mm.
The upper diameter of the inner sleeve of the coil is 20 mm.
Lower diameter of the inner sleeve of the coil max. 45 mm.

Coil bush height 140 ÷ 180 mm. Coil diameter max. 220 mm.
Label : width 28 mm, length 32 mm. Label strip width 28 mm (+0; -0.2 mm). Label strips cutting length 32 mm (+0; -02 mm).
Drum inner sleeve diameter 152 mm, Outer diameter of the drum max. 500 mm, Label paper weight min. 170, max. 240 g / m2.
Envelope : length 66 mm, width 77 mm. Paper cutting length 154 mm, envelope paper width 66 mm, length between photo tags 154 + -0.15 mm.

Drum inner sleeve diameter 75 mm, drum outer diameter max. 500 mm, paper weight 80-85 g / m2.

Box : length 130 mm, width 70 mm, height 79 mm, cardboard weight 300-320 g / m2, cardboard thickness ~ 0.35-0.45 m.

Dimensions: length 3540 mm, width 1805 mm, height 2460 mm.

Weight 5000 kg. Power 20 KW. Mains voltage 380/50 Hz.
Supply air pressure 6 bar. Compressed air demand 300 l / min.
In very good, full working order.
Location: Europe
Please contact us for further details.