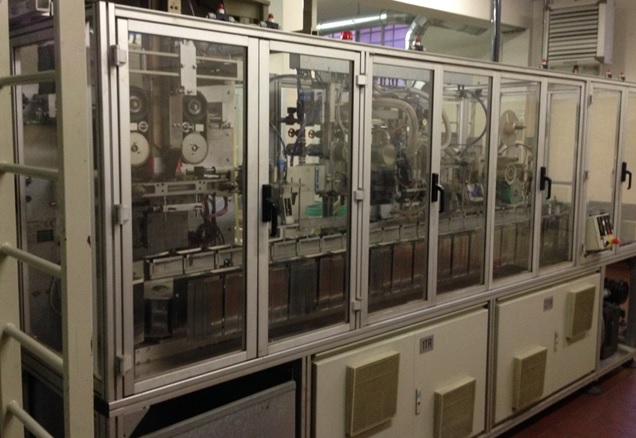 Image 2
Image 3
Image 4
Image 5
Click above for more images and larger versions
Manufacturer: Goglio
Model: GL14
Category: Coffee Equipment
Year: 2005
Status: For Sale
Machine Notes:
Goglio GL14 Vertical FF&Seal Packing Line for Whoe Bean Coffee

Refurbished and ready immediately with 6 months warranty.

Includes Installation at customers site.

Year 2005

Includes Valve Applicator System

This is Goglio's Eco-Friendly Model which runs on 100% biodegradeable film and One-way CO2 valves. Once the bag of coffee is finished with, the user can simply through the whole bag into a Green compost bin.

Runs on Granular products (i.e. rice, coffee and dried fruit).

All food contact parts are AISI304 or materials suitable for food contact.

It consists of twin head weighers Linear double vibrating channel, consisting of 1000 gr.,
Valve Applicator System for applying valves to the film.
Line with cups tape, complete deaeration and pump group
Vacuum (settable value as needed), control system and eject non-compliant packages.

The machine also has the following accessories included:
System nitrogen gas flushing input (possibility of combining with always used nitrogen producer),
Automatic reel lifting, roller oversized coils.

SPECIFICATIONS (manufacturer):

- Types of film used: heat-sealing (film laminated PP and coextruded)

- Thermoplastics (PE monolayer film)

- Production Max / min: up to 30 bags/min. (Indicative values
referring to conditions optimal use with weighed by 1000gr. according to the product and type of wrapping)

- Voltage: 400V 50Hz 3F + N + T

- Working pressure: 6 Bar
- Installed power: 16 Kw

OPTIONAL EXTRAS:
Nitrogen Generator
Thermal Transfer Printers for coding Bar Codes and BB Date

Please contact us for further details.