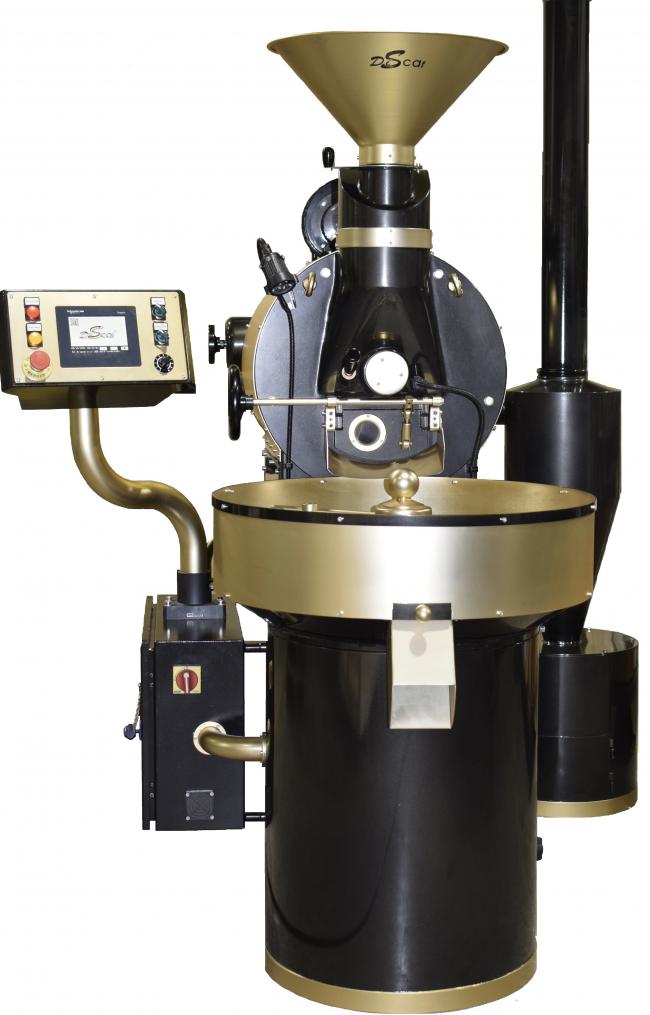 Click above for more images and larger versions
Manufacturer: Discaf
Model: TN-8 Plus
Category: Coffee Roasters - NEW Discaf
Output: 30-40Kg Per Hour
Capacity: 10Kg
Status: For Sale
Machine Notes:

Discaf 5-10Kg Coffee Roaster
Model: TN-8 Plus

This is a New Roaster manufactured to order in Barcelona, Spain.

Easy to operate and maintain, Good looking brass and black enameled finish. Solid and built to last. For the serious Roaster selling high quality Coffee. With 3-4 batches per hour dependant on your green coffee type, density and roasting style. This machine is built to impress.

TN-8 Plus Comprises

Load Hopper
Take off samples
Thermal Isolation
Chaff Collector incorporated
PLC
Cooler with Aspiration
Roasting Drum with Aspiration
Door for cleaning cooling tray
Intelligent Roasting Profile
Touch Screen by Schneider
Modulating Heat source
Batch size 5-10Kg, upto 40Kg/hour
Energy saving hot air recycle system.

TN-8 Specifications

Length 1900mm
Width 1075mm
Height 1810mm
Weight 500kg
The TN-8 Plus comes in either an Electric or Gas version


Electric version
Production: up to 40Kgs/hr depending on type of bean and roast styles
Energy: Electricity
Total electrical power: 28kW
Electrical Consumption: 8 up to 10 kW/hr
Calorific Power: 27,000Kcal/hr
Power requirements: 3 Phase, 400V + E+ N - 50/60Hz

Gas Version
Production: Up to 40Kg/hr - depending on beans and style of roasting
Energy: Natural Gas or LPG Propane Gas
Total Electrical Power: 1kW
Electric Consumption: 0.6 up to 0.8 kW/hr
Natural Gas Consumption: 0.7 up to 1.0 m3/hr
LPG Gas Consumption: 0.7 up to 1.0 Kg/hr
Calorific Power: 26,000 Kcal/hr
Electrical connection requirements: 3 ph, 400v + E + N, 50/60Hz

Price: 28,800Euros Ex.works Barcelona
Plus
Packing into Wooden Crate: 320 Euros.


Lead time from order is 12 Weeks, if stock not available.
Please call for a quotation and availability.